Darren Briggs
managing director and ceo of ascona group
Darren is Managing Director and CEO of Ascona Group, a company he founded in 2011 in his home county of Pembrokeshire, South-West Wales. He began his career in the industry with roles at Elf Oil UK Limited and Total UK Limited, before founding BigOil.net in 2004, which he sold to the PRA in 2008.
In 2018, Darren and his team at Ascona embarked on a high-growth strategy and have since taken the Group  from two sites in Pembrokeshire to nearly 60 across the UK. His strategy of 'Asconarisation' sees Ascona forecourts developed into roadside retail destinations, with a leading retail offer, comprised of both commercial partnerships and in-house brands. Ascona is now one of the UK's leading forecourt operators with 59 sites and over 600 staff. 
Andrew Lawrence
Director at Lawrence Garages (London) Ltd.
Andrew is Director at Lawrence Garages (London) Ltd. Property interests in the Home Counties but now operating in East Anglia. 3 Esso branded forecourts.
Christopher Lord
DIRECTOR – MILL HILL GARAGE (MARCH) LTD
Christopher joined the family business after college and studied to become a mechanic in the company's workshop. A change in circumstances at the business altered the direction of his career and he became a director of the business at 21 following his father Rogers ill health.
Mill Hill Garage has been in the Lord family since its construction in 1953 by Christopher's grandfather William. Originally an agricultural workshop, the business soon evolved to include the sale of new and used motor vehicles and petroleum spirit. It was in the sale of fuel and the operation of a forecourt shop that Christopher has found suited his talents best. Moving fuel supplier and becoming a SPAR symbol retailer the business changed considerably with a newfound focus on food retail. The business currently employs 17 full and part time staff.
The business continues to evolve, having recently had a full repump and a resign to Phillips 66 to futureproof the site and drive more convenience for their customers. Christopher is excited by the prospect of being able to pass on the family business to his sons, in the distant future of course. 
Aziz Patel
Director of the Brookfield Group
Aziz Patel is a qualified pharmacist who started his own petrol retailing business in 1992 as a licencee for Jet in Sheffield. 
He and brothers, Raj and Mebs, joined to form the Brookfield Group which today has strong interests in the forecourt retailing and commercial property sectors.  Knock down and rebuilds and New to industry projects have all been undertaken with significant in-house design and development contributions.
The company can claim to be a specialist owner/operator with Shell and BP fuel brands.  The shop is a major profit contributor with Nisa convenience stores plus Subway and Greggs food-to-go. However, they also have an important leasing arm with Morrison, Co-op, Rontec and EG Group amongst key clients for their forecourt developments.
With Umar (Raj's son) and Ismail (Meb's son) now fully hands on as 2nd generation in the business they have some exciting development opportunities in the years ahead.
Hemant Tandon
Operations Manager for Park Garage Group Plc.
Hemant is an Operations Manager for Park Garage Group Plc. Park Garage is a family run business that has Texaco, Gulf, BP and Shell branded stations in its portfolio. 
Hemant graduated from Keele University and read Business Management and Marketing. Following university, Hemant joined the Supplier Payments team at Sainsbury's to gain exposure into the retail industry. Having gained 2 years worth of retail experience, Hemant decided to join the recruitment sector to further his people and negotiation skills. Hemant worked with Modis, an American Recruitment Consultancy, for one year before joining the family business in February 2016. 
Hemant now works in the operational team at Park Garage and hopes to further enhance the family business, firstly focusing on the operations side and then moving into fuel.
Ashley Kay
Director - The Kay Group (UK) Ltd
Following a successful career in law Ashley joined the Board of Directors in January to further promote the family business through a long term focus to expand its activities through developing state of the art outlets with "New to Industry" acquisitions and to continue its support of the petrol retailing industry.
The Kay Group was founded by her father; Ken Kay in 1972 and is one of the North West's leading petrol retailers. Principle supply partners;  Shell, Texaco, BP, Spar and WH Smiths Stationary  compliment  the group's in-store retailing partners, Subway, Greggs and Costa Express.
In 2017 The Kay Group built and opened the world's first Greggs Drive-Thru and in 2018 secured planning approval for a second.  Also, as part of its business diversity plans the group has developed its third Costa Drive-Thru, with three more in the pipe line.
The group directly employs over 240 personnel and provides a local based service to over 300,000 customers a week.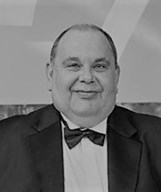 Guy White
Managing Director at Laurels Group Ltd
After a very successful career within motor factoring and sales, Guy joined the family business in 2008.
Upon entering the family business which had been established in 1963, by his well-respected late father, the potential of the family site could be seen.
The site was a reasonably traditional fuel site offering vehicle servicing, MOTs, and repairs.
A full re-pump, adding extra fuel storage capacity and a new layout was created.  Including a brand new Spar convenience store, Costa coffee, Hermes parcel collection, and a free to use cash machine was created, also offering locally sourced hot food.
The site celebrates nearly 60 years with the Shell brand and has won some fantastic recognition within Shell over the last 6 years.
In 2020 the opportunity arose to purchase a very large site opposite, which has currently been knocked down.  Exciting plans are forming for a state-of-the-art Service area.
Guys' interests are in fuel and future fuels, education of E10, eco-friendly vehicle cleaning, creating footfall drivers to stores, and everything food to go and especially new concepts.
Mark Wilson
Chief Operating Officer - Fraser's Retail Limited
Mark came into the industry in 1987 working for Prime Garages, which was then the company that owned the network for Mobil Oil Company.
Mark managed a site for a short period of time before being appointed Territory Manager inside the M25, looking after approximately 60 sites and has held various roles from Sales to Card Marketing to rolling out Premier Points amongst many others.
When BP Mobil merged Mark went into the Dealer Network for a number of years before leaving to work for a very highly respected Independent Retailer, The Fraser Group who are still the only dealer to have won the National Forecourt Trader of the Year 3 times.
With over three decades of experience and knowledge Mark is pleased to be able to offer my input into how the PRA Executive committee shape our industry.